June 30 - July 18, 2008
Scientific Coordinators:
Collin Broholm (Johns Hopkins University), Piers Coleman (Rutgers University), Allan MacDonald (University of Texas, Austin), Ashvin Vishwanath (University of California, Berkeley)
Site Coordinator: Leo Radzihovsky
The 2008 Boulder school presents a leading team of experimental and theoretical condensed matter physicists to lecture on diverse aspects of this burgeoning field of research. The school will focus primarily on pedagogy, seeking to provide students with a firm foundation in the key theoretical and experimental methods, with extensive opportunities for informal and detailed discussion. Topics to be covered include fundamentals of Fermi liquid theory, magnetism and low dimensional materials, organic, oxide and heavy electron materials, diverse methods of spectroscopy and transport measurements and the link with strongly correlated physics of atom traps.
---
Group Photo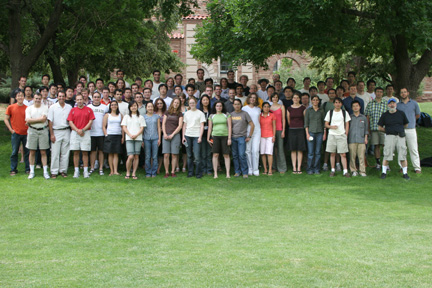 ---
Public Lecture
JILA Auditorium, right next to Duane Physics building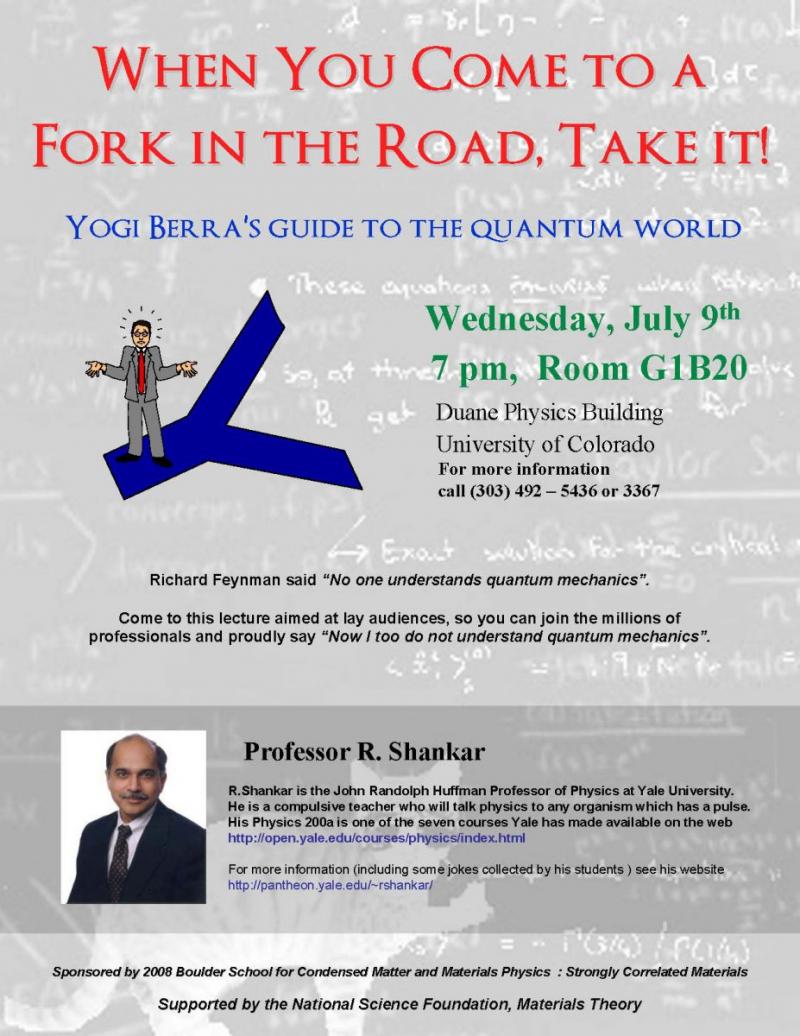 ---
List of 2008 expected lecturers and seminar speakers:
P. Armitage – Johns Hopkins University
L. Balents – U.C.S.B.
C. Bourbonnais – University of Sherbrooke
P. Canfield - Ames Laboratory
P. Coleman – Rutgers University
D. Dessau – University of Colorado
D. Jin - University of Colorado and JILA
B. Keimer – MPI-FKF Stuttgart
G. Kotliar – Rutgers
K. LeHur – Yale University
A. Millis – Columbia University
V. Mitrovic – Brown University
M. Mostovoy – Groningen University
L. Radzihovsky - University of Colorado
T. Senthil – M.I.T.
R. Shankar - Yale University
P. Ong – Princeton Universtiy
A. Yazdani – Princeton University
Topics Include:
The 2008 Boulder School in condensed matter physics will be devoted to the behavior of strongly correlated materials. The hunt for new forms of collective behavior in materials, in the form of new phases, the quest for higher Tc superconductors, the study of liquid Helium and ultra-cold atomic gases, and the discovery of new quantum critical states of matter, is a major frontier field of condensed matter and materials physics today.