Getting Here
It is best to fly into Denver International Airport (DIA), which is located approximately 45 minutes away from Boulder. To get to Boulder from DIA, take the RTD AB or ABA bus, which costs $9.00 one-way, if paying on the bus you will need to pay the exact amount on the bus. The bus leaves once an hour, roughly 20 to 30 mins after the hour, from the Transit Center accessed from the south exit on level 5 (look for the large American flag), exit the terminal through the sliding glass doors and take the escalator located in the center of the plaza down to level 1, with further details at http://www.rtd-denver.com/airport.shtml. For more details check at the RTD booth or see http://www.rtd-denver.com/Schedules.shtml. To view schedule to Boulder, hit the "View skyRide schedules — lettered routes, e.g. AB/ABA" link. RTD buses run many routes so it is important that you take the AB or ABA route. The bus makes a few stops on the way to Boulder and then has quite a few stops in Boulder. If you are staying in Buckingham Hall at the Kittredge Complex, please get off the bus at the intersection of Baseline and Broadway and walk north to Kittredge Hall. In addition there will be signs posted for you, directing you to Kittredge. Please consult the map of campus provided in this packet, or on the web located at: http://www.colorado.edu/Directories/WebMap/.
Other modes of transportation between DIA and Boulder are:
Supershuttle (phone: 303-227-0000 or web: https://www.supershuttle.com/locations/denverden/) which provides door-to-door service and also leaves DIA hourly.
Green Ride Boulder Shuttle. For schedules, please visit http://greenrideboulder.com/. They will leave DIA 30-35 minutes after the hour. Please go to Level 5 (Main Level), Island 5, Outside Door 504. This is on the West side of the Terminal. The shuttle will deliver you directly to your hotel or Physics building.
---
Housing and Meals
Unless you requested special housing in your original application, all students will be housed in a double room in Buckingham Hall in the Kittredge complex on the campus of the University of Colorado Boulder. Bed sheets, pillow cases, one set of towels (exchanged during the week) will be provided with your residence hall room but you should bring your own soap, shampoo, hair-dryer, etc. If you would like a larger bath towel you should bring your own. There are no phones in the rooms and no active jacks. You can pick up your room key on the Sunday before the start of the school unless you have requested an early arrival date.  You must check out of your residence hall room at the end of the school no later than 12 noon on the Saturday after the last day of the school.
Breakfasts (7:00am - 10:30am), lunches (11:00am - 4:30pm) and dinners (4:30pm – 7:00pm) will be provided free of charge on weekdays; weekend meal are not provided by the school. You will be issued a swipe card at check-in that will serve as your room key and meal card for access to the dining facilities. All meals will be held in the Center for Community (C4C) except for a catered dinner at Duane Physics, see schedule for dates. You will be on your own for the weekend meals. Boulder offers a large selection of cuisine, which you are urged to take advantage of.
Lecturers will be provided with meal cards (free of charge), which they can use to pay for their meals in the Center for Community (C4C). One catered dinner is included for participants, see schedule for dates. Additional tickets can be purchased for family and other guests. Lecturers who stay through a weekend will be given a per diem of $40 to cover their meals.
Family and significant others who are not participants or lecturers will need to purchase meal tickets for eating in the Center for Community (C4C).  Contact Leo Radzihovsky for additional tickets to C4C meals and the catered dinners.
---
Check-in and Registration
Check in is 3:00pm. During your stay the Kittredge Central front desk (303-492-0033) is available for assistance 24/7.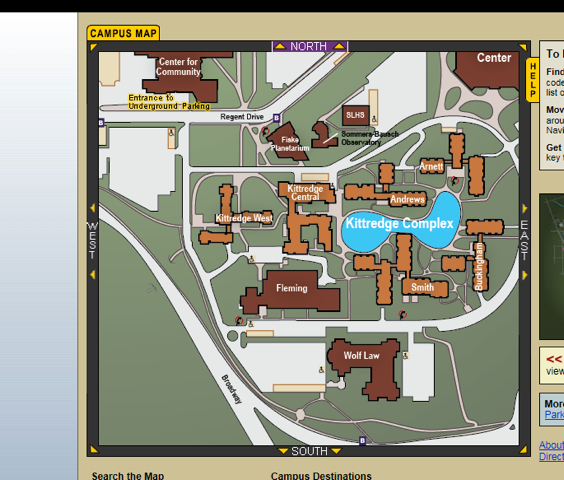 Sunday evening prior to the start of the School, there will be a 6:30pm-8:30pm registration mixer with light refreshments at Weather Tech Cafe' in the C4C, signs will lead you to the exact location.
If you arrive too late to pick up your registration packet, i.e., after 8pm, please note that the first lecture starts on Monday morning, at 8:30am in the Duane Physics building, G130 (1st floor, one up from the ground level).
---
Lectures
All lectures (with any exceptions announced well in advance) will be held in the Duane Physics building, room G130, a 5 minute walk northwest of Kittredge. Typically, there will be two lectures in the morning, 9:00am-Noon and one after-lunch lecture at 2:00pm-3:00pm, followed by a daily discussion session. Some additional seminars and discussions will also be held, as well as posted on the web here for the current school.
All students are strongly encouraged to present a poster at the school. Details about the posters will be contained in the admission letter and the Poster Session Schedule is listed in this booklet for the current school.
All sessions will take place in the faculty lounge on the 11th floor of Duane Physics Building. Students are also encouraged to organize their own seminars and study groups. These can be held in the evenings or available time in the afternoons in our main lecture room G130.
Copies of lectures notes will be available during the School. Soon after end of the School, these will also be available on the Web.
---
Reimbursements
Students form US universities and all lecturers from US schools, please submit the following information via email to the school administrator, Dakota Nanton (nanton@colorado.edu). The subject line of your email should be: BSS Reimbursement: Last Name, First Name In the email make sure to provide your HOME mailing address (no university or business addresses allowed) and attach all airline receipts and any receipts for taxi, bus, shuttles, uber etc. to and from the airport. If you come by car please produce original credit card receipts for gas and tolls as evidence of travel. Your reimbursement check will be mailed to your mailing address within approximately 4-6 weeks. Lecturers staying off campus should also provide copy of their lodging receipts.
International lecturers and organizers will need to fill out a physical reimbursement form while here with Lindsey Romero in the main office (Lindsey.Romero@colorado.edu). You will be asked to provide a copy of your passport bio page, US visa entry and to prepare a W-8 BEN tax form in addition to any reimbursement paperwork. Your reimbursement check will be mailed to your mailing address within approximately 4-6 weeks.
For any questions please contact:
Dakota Nanton, Boulder Summer School Administrator
Phone (303) 492-3367
nanton@colorado.edu, Office: Duane F611
---
Computer Facilities
All University of Colorado buildings, including the Physics building and Buckingham residence hall offer free wireless internet access through UCB Guest. Other Wireless internet access information will be provided in the welcome packet.
If you are not able to get your poster printed before you leave home (or are unable to easily transport), you may get posters printed at FedEx Office (http://local.fedex.com/co/boulder/office-0402/).
In general, however, you should not count on getting any serious computing done while you are here. Instead focus on lectures, interactions with other students and lecturers, thinking, and the outdoors.
---
Recreation Center
Recreation facilities (pool, weight-room, basketball court, ice rink, etc. …) are available at the CU Recreation Center by showing your white Guest Card and paying $7 per day (monthly memberships also available (see, http://www.colorado.edu/recreation/ to confirm hours of operation and further information).
Hours:
Mon-Fri 7am - 10pm
Sat and Sun 10am - 9pm
---
Library
Please use either Norlin Library (303-492-8705 or https://www.colorado.edu/libraries/) or Commons.
Norlin Summer Hours:
Mon-Thurs 7:45 am to 7:00 pm
Fri 7:45 am to 5:00 pm
Sat 12:00 pm-5:00 pm
Sun 12:00 pm to 7:00 pm
Commons Summer Hours:
Mon-Thurs 7:30 am to 12:00 am
Fri 7:00 am to 5:00 pm
Sat 12:00 pm to 5:00 pm
Sun 12:00 pm to 12:00 am
To check out books from the library you will have to sign up for all campus library privileges at the Circulation Desk in Norlin Library by presenting a photo ID.
---
Hiking, Biking, and other fun activities
Boulder and its surroundings offer a large spectrum of first rate outdoor recreational activities, which include hiking, mountain biking, running, rock and ice climbing, white water rafting, fishing, bird watching, outdoor concerts, and numerous local microbreweries. Chautauqua Park, an area right in front of the Flatirons mountains (the signature peaks appearing in most photos of Boulder), south-west of campus, is a must-visit park with a huge selection of trailheads, best heading to Green and Bear mountains. Another attraction, closer to campus is the Creek path, (just north, downhill of Duane Physics building), which runs along the Boulder Creek from the foothills, several miles west of town, to the prairie, several miles east. Pearl Street Walking Mall, located downtown Boulder, approximately a mile north of campus is also a must place to visit and to hang out in the evenings. If you have a car, we strongly recommend that you visit Rocky Mountain National Park, approximately 50 miles north-west of Boulder. Hiking guides and maps will be available to check out in the lecture room during the school.
Biking Options

Bicycle rentals are available through the University at discount rates for university guests (http://www.colorado.edu/ecenter/transportation/bicycle/buff-bikes), as well as Boulder Bikesmith (http://boulderbikesmith.com) and University Bicycles (http://ubikes.com).
Also, there are a number of BCycle stations around town for short rides (https://boulder.bcycle.com/). Boulder is extremely bicycle-friendly with numerous paths and racks around town.
Discount for Condensed Matter attendees on BCycle!
Download the BCycle app
Select a Monthly Pass and uncheck "sign up for auto-renewal"
Apply promo code CMSS22 for $10 off a Monthly Pass (33% discount on an unlimited number of bike share trips!)
Start riding! Use the BCycle app to check out bikes and see system info
Keep every trip under 60 minutes to avoid overtime fees. A pre-authorization on your credit card will disappear within 1-3 business days.
If you want to receive mail while attending Boulder Summer School, please use the following address:
CU Conference Services
Attn: Boulder School for Condensed Matter and Materials Physics/<your name>
2480 Kittredge Loop Dr. #1953
Boulder, CO 80310
Please make sure not to give out this address for something, e.g., magazine subscription, that will continue coming even after you leave the School.
The phone number for the Department of Physics is: (303) 492-6952
The phone number for the Boulder CM School administrative office is: (303)492-3367
The phone number for the Buckingham Hall is: (303) 492-8888
---
Insurance
University of Colorado and NSF does not take out any health or accident insurance for the lecturers and participants of the Boulder School; this is your individual responsibility.
---
Parking
You can reach out to customer service to inquire into month long permits at 303-735-PARK (7275). You can also follow the link below for daily or weekly short term parking options:
https://www.colorado.edu/pts/short-term-parking
Parking permits are required to park on the CU Boulder campus. License plate required to purchase permits.  Park only in Lots or Zones designated with purchase.
---
Weather and Clothing
Boulder is at an altitude of 1 mile above sea level. The weather is sunny, 80-90 Fahrenheit or even hotter during the day and drops by 10-20 degrees in the evening; the humidity is nonexistent (drink plenty of water!). While sunny weather is the norm around here, Boulder weather is notorious for quick changes, especially in the mountains. On hikes you will have to be prepared for bright sun, wind, rain, heat, cold, and snow, so hiking boots, long pants, a jacket and a hat as well as sunscreen are essential. For more information on the local weather see https://www.wunderground.com/us/co/boulder.
---
Other Information
Boulder has a very extensive bus system. If you would like to visit a location beyond the vicinity of campus, visit http://rtd-denver.com/ for bus route information. For more detailed information about Boulder such as maps, weather, recreation see http://www.colorado.edu/visit/. For more information about the University of Colorado at Boulder, please see http://www.colorado.edu/.